You are here
Life with Puppies all 10 eBooks
Written By Ellen J. Myers, award winning Breeder & Author
| Book | Content |
| --- | --- |
| Book One: Choosing a Puppy | People love puppies. There is something so wonderful about a puppy, from their sweet puppy breath to their little feet. As they totter around your house, they totter their way  into your heart, and it can be difficult to deny a puppy anything. |
| Book Two: Getting Ready for Puppy | Welcome to book two of Life with Puppy: A Learning Series. In this book, we will look at all the things you need to do for your new puppy before he even arrives at your home. |
| Book Three: Bringing Puppy Home | By now, you are probably getting excited about that new puppy. After all, you have the supplies, you have the breeder and you are just waiting for the day your little one can come home. |
| Book Four: Those Firs Few Nights | It is often said that there is nothing cuter than a sleeping puppy. Unfortunately, sleeping puppies can seem hard to come by during the first few nights that puppy is home. |
| Book Five: House Training Puppy | One task that many new puppy owners dread is house training. This can be long, involved and can be filled with many accidents that are frustrating and costly. |
| Book Six: A Trip to the Vet | The first year of your puppy's life is filled with many expenses. It is actually the most expensive year of your dog's life. |
| Book Seven: Oh, those Puppy Teeth | When you first bring a puppy home, there is no end to how cute they can be. Their little mouths and little ears and even their little teeth are so sweet and wonderful. |
| Book Eight: Puppy Need a Friend | Socialization. I am sure that you have heard the word many times when you were looking for a new puppy. |
| Book Nine: Puppy Manners | Although this book is about puppy manners, it is important to note that many of the tips in the other books in this series touch on puppy manners. |
| Book Ten: Basics of Puppy Training | Welcome to our final book in Life with Puppy: A Learning Series. In this book, we will be looking at some of the basic commands that you will be teaching your puppy, including sit, stay, down and come. |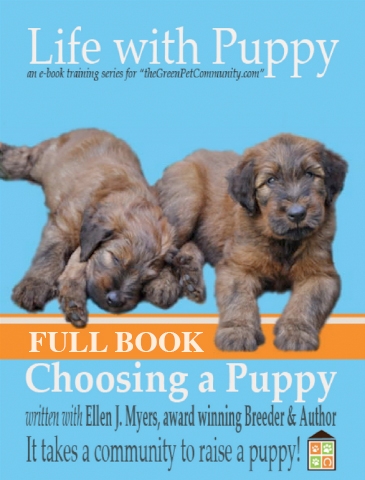 People love puppies. There is something so wonderful about a puppy, from their sweet puppy breath to their little feet. As they totter around your house, they totter their way  into your heart, and it can be difficult to deny a puppy anything.
Welcome to book two of Life with Puppy: A Learning Series. In this book, we will look at all the things you need to do for your new puppy before he even arrives at your home.
By now, you are probably getting excited about that new puppy. After all, you have the supplies, you have the breeder and you are just waiting for the day your little one can come home.
It is often said that there is nothing cuter than a sleeping puppy. Unfortunately, sleeping puppies can seem hard to come by during the first few nights that puppy is home.
One task that many new puppy owners dread is house training. This can be long, involved and can be filled with many accidents that are frustrating and costly.
The first year of your puppy's life is filled with many expenses. It is actually the most expensive year of your dog's life.
When you first bring a puppy home, there is no end to how cute they can be. Their little mouths and little ears and even their little teeth are so sweet and wonderful.
Socialization. I am sure that you have heard the word many times when you were looking for a new puppy.
Although this book is about puppy manners, it is important to note that many of the tips in the other books in this series touch on puppy manners.
Welcome to our final book in Life with Puppy: A Learning Series. In this book, we will be looking at some of the basic commands that you will be teaching your puppy, including sit, stay, down and come.