You are here
Canine Grooming Secrets eBook Two: Tools for Grooming
| Content | Page |
| --- | --- |
| Introduction | 5 |
| Setting up the Environment | 6 |
| Tools for the Coat | 8 |
| Brushes | 8 |
| Rakes and Blades | 10 |
| Combs | 11 |
| Odds and Ends | 12 |
| Tools for the Ears | 16 |
| Tools for the Teeth | 18 |
| Tools for the Nails | 19 |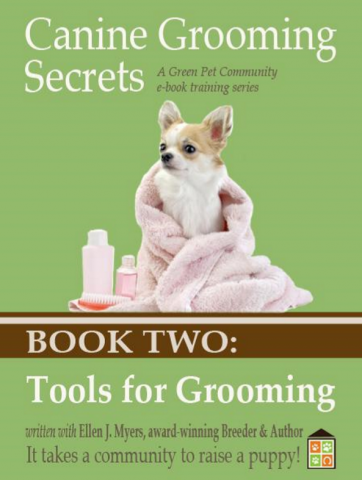 Welcome to the second book of Canine Grooming Secrets. In this book, we will go over the many tools used in grooming and which type of tool is suitable for which type of dog. It is important to remember that, depending on your dog breed, you may not require all of the tools; however, you will need some.
In addition, it is important to have quality tools on hand, as well as some of the finer grooming instruments that will enhance your dog's coat and overall health. Grooming is often viewed as being a difficult thing to do, but I have found that, with the proper tools, it can actually be quite easy.
Every groomer should have a toolbox, which should be filled with everything they need to get their dog looking great. One brush and one nail clipper for all the dogs in your house isn't going to cut it, but it is a start. By adding slowly to your grooming tools, you will find the end result—a well-groomed dog—is easier than you ever thought it would be.