You are here
Dog Grooming Secrets - Full eBook
Written By Ellen J. Myers, award winning Breeder & Author
| Book | Content |
| --- | --- |
| Book One: Making Grooming  Treat | Find out how to make grooming a positive experience right from the very start.  Filled with tips on how to start grooming a puppy so grooming doesn't become a chore. |
| Book Two:  Tools for Grooming | A look at the world of grooming tools.  What tools do you need, what tools can you go without and what tools are optional. |
| Book Three: Understanding Grooming Needs | Do you know what grooming needs your puppy has?  Find out everything you need to know about grooming needs in this module to prepare you for grooming your puppy. |
| Book Four: Understanding a Dog's Coat | Learn about all the different coat types that dogs have and the different needs those coats have. |
| | How to promote good nail care in your dog's diet, keeping those nails trimmed and first aid when you clip the quick |
| | The ins and outs of the canine mouth and how to promote good dental care in your dog.  This book also looks at how to brush your dog's teeth. |
| | Learning how to properly care for your dog's ears, which includes trimming hair and cleaning the ears. |
| Book Eight: Bathing your Dog | The ins and outs of bathing your dog. How to choose a shampoo, the steps involved in bathing and preventing splits in the hair. |
| Book Nine: Grooming the Medium to Long Haired Coat | Specific tips on grooming a dog with a medium to long haired coat. |
| Book Ten: Grooming the Short Haired Coat | Specific tips on grooming a dog with a short haired coat. |
| Book Eleven:  Grooming the Wire Haired Coat | Specific tips on grooming a dog with a wire haired coat. |
| Book Twleve: Grooming the Curly Haired Coat | Specific tips on grooming a dog with a curly haired coat. |
| Book Thirteen: Grooming the Corded Haired Coat | Specific tips on grooming a dog with a corded haired coat. |
| Book Fourteen: Special Grooming Considerations | Grooming a dog that is wrinkled or hairless provides its own challenges and this module covers all the information that you need for this. |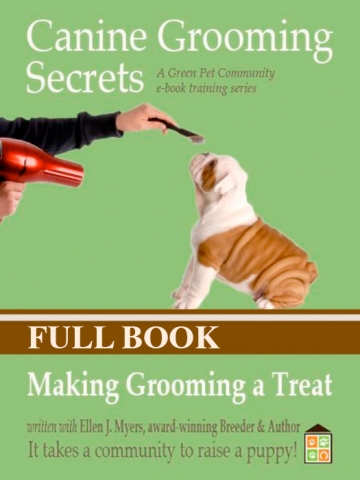 Dog Grooming e-book, explains how to groom a dog, get dog grooming tips. Do it yourself dog grooming at home and the secrets of groomers
Whether your dog has long hair or short hair, no hair or wrinkles, there are a number of grooming tips that every dog owner needs.  The simple fact is that puppies and dogs need to be properly groomed to be healthy and happy pets.  There are nails to trim, ears to clean and a dozen other little jobs that need to be done for the perfectly groomed pet.
In this series, we look at all the ins and outs of grooming your dog and we offer a few practical tips on making grooming go much easier for both you and your pet. Grooming can be a wonderful experience for both you and your pet and by knowing how to do it correctly, it doesn't have to be a chore.
In fact, it can be an amazing way to bond with your pet and will provide you with opportunities for training that is not realized in any other area.  Grooming can be wonderful and knowing some of the secrets of groomers will only heighten your enjoyment of the task and will ensure that the end result is magnificent.
The Canine Grooming Secrets:  A Learning Series is a nine part ebook series that looks at the basics and the advanced techniques used in grooming your dog from dental care to nail care.  In addition, the series offers a selection of 4 additional books on caring for specific coat types.  The books include: