You are here
Canine Grooming Secrets eBook Four: Understanding a Dog's Coat
| Content | Page |
| --- | --- |
| Introduction | 5 |
| Coat Composition | 6 |
| It's All About the Coat | 8 |
| Coat Textures | 8 |
| Coat Lengths | 11 |
| Coat Color | 12 |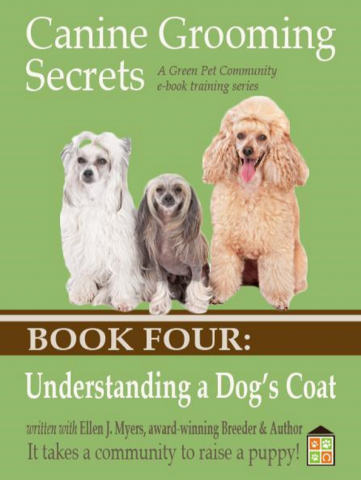 Welcome to Book Four in our canine grooming secrets series. Hopefully, by this point, you have read the first three books and are already getting ready to groom your dog. While I would love to launch into all the little secrets of grooming, there are still a few more things that I will need to go over, including a dog's coat type.
It may not seem like a big thing, but knowing your dog's coat type can save you both time and money when it comes to grooming. I recommend that you read about your dog breed at http://www.thegreenpetcommunity.com/breeds before you begin learning about the different coat types.
The topic of coats is, believe it or not, quite large and varied. We will get into grooming the coat later on in this series, but for now, we will simply look at the various grooming needs that your dog will need.
As I have mentioned before, grooming doesn't have to be hard or a chore you dread, and if you have all the information you need, as well as the appropriate tools, then grooming can be an easy and enjoyable task that both you and your dog will love.
Hopefully, when you are finished reading this book, you will understand everything
you need to know about your dog's grooming needs.