You are here
Canine Grooming Secrets eBook One: Making Grooming a Treat
| Content | Page |
| --- | --- |
| Introduction | 5 |
| The Importance of Grooming | 6 |
| Myths about Grooming | 8 |
| Putting the Fun into Grooming | 11 |
| When to Start Grooming | 11 |
| Where to Groom Your Dog | 12 |
| Making Grooming Fun | 13 |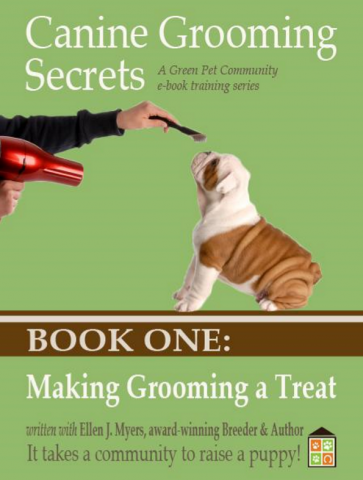 Grooming can be quite a chore. It is often described as one of the main reasons why people don't like dogs. In fact, most dog owners will try to avoid grooming their dog if it is possible. They choose breeds that have few grooming needs, or will avoid grooming until it is completely necessary.
This avoidance of grooming can lead to more problems in getting a dog groomed, and will only complicate the whole process. It leaves everyone feeling frustrated and the dog is rarely groomed properly. If they are, it is usually by a trained groomer. While using a professional groomer can be a lifesaver, especially for more difficult grooming processes, it can also be very expensive.
However, grooming a dog doesn't have to be a difficult chore, and it can actually be a very pleasant thing to do. It can help you bond with your pet and will ensure that you stay ahead of his health needs. In addition, regularly grooming your dog can be a wonderful way to train him, and to ensure that he stays healthy and clean.
We will be looking at how to groom your dog from nose to tail, and will share a few secrets for the dog groomer in your family, helping to make it an enjoyable process. After all, if you enjoy grooming your dog, then you are more likely to groom him. In
addition, having the knowledge to groom him properly will make the process much quicker and will enable you to do it more effectively.
We will go over how to care for every coat type that you may experience in the world of dogs, and we will also go over the tools you will need and how to deal with other grooming areas besides the coat.
But before we begin any of that, it is important to learn how to make grooming a treat, and that is where we start our series on grooming. Welcome to the world of grooming your canine companion!