You are here
Life With Puppy eBook Two: Getting Ready for Puppy
| Content | Page |
| --- | --- |
| Introduction | 5 |
| Planning Your Schedule | 6 |
| Setting up a Sitter | 9 |
| Puppy Supplies | 12 |
| Bath and Grooming Items | 12 |
| Household Items | 14 |
| Training Items | 14 |
| Puppy Proofing Your Home | 16 |
| Picking a Food Brand. | 18 |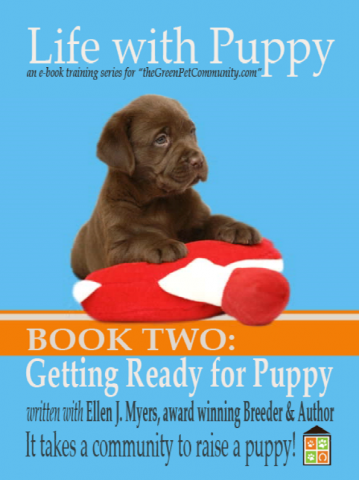 Welcome to book two of Life with Puppy: A Learning Series. In this book, we will look at all the things you need to do for your new puppy before he even arrives at your home.
One thing that has become evident over the last few decades of pet ownership is that fewer people are purchasing on a whim. This is a wonderful shift in the responsibility of pet ownership, and it allows people to take the opportunity to get everything ready for their pup.
Unfortunately, many people take the advice of pet stores. While pet stores do want to help, they also thrive when customers purchase things. Because of this, I have seen countless new puppy owners purchasing more than they need. In the end, half of the supplies aren't used more than once.
Instead of getting your shopping list and your puppy advice from a pet store, take the time to learn about the essentials you will need. A little planning can save you a lot of unnecessary expense.
In addition to a shopping list, this book will look at planning a schedule, how to puppy-proof your home and how to choose a dog food that is right for your dog.