You are here
Life With Puppy eBook Ten: Basics of Puppy Training
| Content | Page |
| --- | --- |
| Introduction | 5 |
| Training Basics | 6 |
| Sit | 9 |
| Troubleshooting Sit | 10 |
| Watch | 11 |
| Troubleshooting Watch | 12 |
| Down | 13 |
| Troubleshooting Down | 14 |
| Stay | 15 |
| Troubleshooting Stay | 16 |
| Come | 17 |
| Troubleshooting Come | 18 |
| Release | 19 |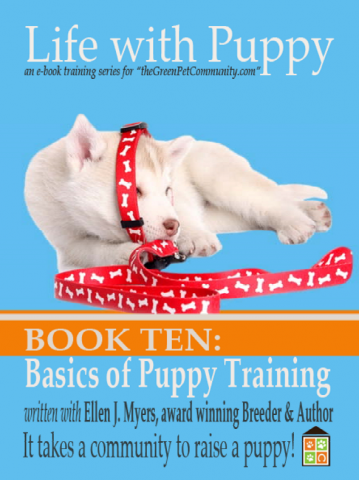 Welcome to our final book in Life with Puppy: A Learning Series. In this book, we will be looking at some of the basic commands that you will be teaching your puppy, including sit, stay, down and come.
These commands can be started as soon as you bring your puppy home in an informal manner. They will begin in a formal manner as soon as your puppy reaches around 11 weeks of age, when it is appropriate for him to start puppy socialization classes.
Training your puppy can be a challenge, but it can also be a wonderful experience that you share with your puppy. While it does teach your puppy to behave and be a good canine neighbor, it is the bond that you will build with your puppy that makes training enjoyable.
Your puppy will learn during this time to count on you, and he will quickly become your best friend as you teach him all there is to know about being a well-rounded and well-behaved pet.