You are here
Life With Puppy eBook Four: Those First Few Nights
| Content | Page |
| --- | --- |
| Introduction | 5 |
| Puppy's First Night | 6 |
| Introducing Puppy to the Crate | 6 |
| Keeping Your Puppy Up | 6 |
| Settling Your Puppy Down for the Night | 7 |
| Combating Sleepless Nights | 7 |
| Setting a Schedule | 10 |
| Feeding Your Puppy | 12 |
| Settling in to the Home | 14 |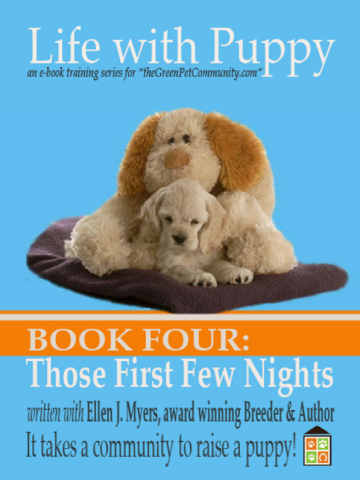 It is often said that there is nothing cuter than a sleeping puppy. Unfortunately, sleeping puppies can seem hard to come by during the first few nights that puppy is home.
In fact, those first few nights often remind people of having a newborn in the house. If you have never experienced a newborn in the house, you should know that it can be surprisingly tiring. Remember that your puppy is technically a newborn.
Yes, I know that he isn't quite so little now, but the first few nights are filled with separation anxiety, plenty of trips to the bathroom and a whole host of other problems. It can be a wonderful time, but it can also be nerve-wracking and a little frustrating.
While this book can't help you cope with the exhaustion of the first few nights and all the times you have to get up with your puppy, it can help you survive. It will tell you everything you need to know about those few nights, starting with puppy's first night, dealing with crying and finally feeding your puppy.